Olay Pro-X Advanced System
(an alternative of Clarisonic)
Featured in Taiwan Variety Show:
Good Reviews from Makeup Alley
Direct Imported from United Stated
Price @ $63 with ready Stock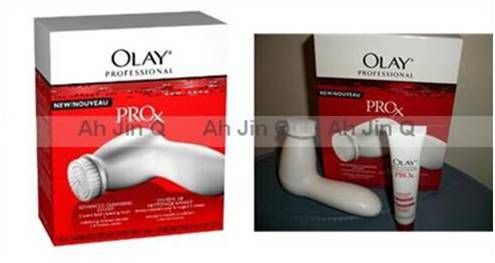 Product Features
1. Cleanse skin 6 times better compared to basic cleansing
2. Helps maximize immediate hydrating effectiveness of anti-aging moisturizer
3. designed with two speed, slow or fast
4. Rotating system delivers daily deep cleansing and gentle exfoliation
5. Replaceable soft bristle brush head
6. Water resistant
In the box (as seen in the picture above)
One Olay face cleanser Brush
One sample size Pro-X exfoliating renewal cleanser
Two AA size batteries included
Direction to Use
Dampen facial skin and brush head lightly with water. Dispense Pro-X exfoliating renewal cleanser or use your own daily cleanser in your hand and massage over face. Turn on cleansing brush and gently move around the face for approximately 1min. Avoid the eye area and rinse face and brush head with water after use.
(For best results, replace the brush head every 3 months or sooner if bristles become deformed.)
Warranty
I provide a 7-days warranty upon purchase. If the item is defected or not working, I will do a 1-1 exchange for you within the 7 days.
Olay Pro-X Replacement Brush Head


(2 heads in a box)


Direct imported from United States
Price @ $29
Buy in a Bundle Set @ only $88 !!!




Spree Name: Olay Pro-X Face Cleanser Spree
Email: ahjinq6@gmail.com



Mode of Payment
Posb or Uob (i-transfer)
Cash on Meet-up



Method to receive your item
1) Normal Mail (free)
2) Registered Mail (add $3) ***highly recommended***
3) Meet-up @ MRT Control Station

Weekdays Morn: Between 8.30am - 9am Location @ Paya Lebar or Dakota MRT
Daily Night Time: 10 - 11pm Location @ Outram or Harbourfront MRT




Details pertaining to this spree
1) I have ready stocks on hand. First paid, first serve basis.
2) Orders will be mailed within 3 working days (for Singpost) once order, payment and mailing address are received.
3) All products will be wrap with a bubble wrap and mailed out in a plastic mailing bag.
4) registered mail is recommended as Singpost tends to be rough with normal mail.
5) I will not be held responsible if items get lost during posting. Please add an additional $3 for registered mail.
6) I provide a 7-days warranty upon purchase. If the item is defected or not working, I will do a 1-1 exchanged for you within the 7 days.
7) If an item goes OOS, I will let you know and you shall have an option to decide if you wish to wait for the next shipment.
8) Post your order after payment with transaction details to me.



Example of Order Format

Name:
Email:
Bank Type:
i-banking nick:
Date & Time:
Transaction ref:

Item:
Quantity:
Postage: Normal Mail (free) / Registered Mail (add $3)
Total amount transferred: $63 / $63 + $3 (reg) =